We are excited to announce that this summer Camps Equinunk & Blue Ridge will host its second annual Sparkles for SCOPE Fundraiser on Sunday, July 31 in partnership with SCOPE (Summer Camp Opportunities Promote Education). We appreciate how amazing camp is and our efforts will support SCOPE's mission to provide children from low-income families with access to attend nonprofit, ACA-accredited overnight camps.
During this fundraiser, Blue Ridge campers will participate in awesome activities such as zumba, capture the flag, and indoor games while decked out in all that sparkles and shines to keep with the festive theme of the day!
Campers at Equinunk will take part in College Games for SCOPE. Everyone will have lemon ices following their gives back activities!
Please support our efforts to raise funds to provide even more less fortunate children with access to overnight camp through SCOPE, as we know how truly impactful the camp experience is.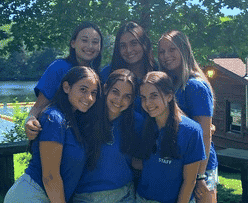 A special thank you to Sam Braverman, Sami Cohen, Ava Finger, Derek Mishkin, Stevie Raisman, Jack Sherman, Emma Ward, and Sophie Ward for spearheading these camp-wide gives back initiatives! Through engaging initiatives and projects, youth and teen supporters have been raising awareness and funds for SCOPE throughout the year to give back (and receive community service credit)!
Learn more
.